Find out more about Blitzfitme from Founder and CEO Oliver Berquez
Blitzfitme Founder and CEO Oliver Berquez
I formed Blitzfitme in my hometown of Chelmsford, Essex in January 2014. I had been working as a freelance personal trainer prior to that. But just decided at the turn of that year I was going to fulfil my goal and start my own business.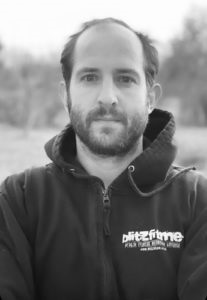 I studied in Personal Training, including nutrition, sports rehabilitation, and massage. This area has always been a passion of mine and it was something that I wanted to pursue as my career. Mainly because I found helping people so rewarding.
My background was in professional sport, where I was a semi-professional football player for 19 years. I won league titles for previous clubs and played over 750 senior matches. What the years of playing sport taught me was that you need to be dedicated, work extremely hard and perform in a team culture.
Everything I have learned, studied, practiced, and achieved to date is the springboard to creating my businesses. And it is my passion and purpose to continue to inspire and support every client / company I work with and to be the best they can be.
Why Did I Start My Own Business?
The industry was full of fads, quick fixes, and unrealistic results. It lacked quality and longevity. I wanted to create sustainable fitness and nutrition solutions for people, regardless of age and ability. Making it fun, achievable, and engaging. I wanted to provide people with the tools, knowledge, and support to lead a healthy and happy life. There should be something for everyone.
The Successes Along The Way
We have created successful and engaging programmes for a person as young as 2 and our oldest 81. Providing initiatives across multiple sectors, schools, companies, sports teams, charities, and local authorities.
We have worked with over 10,000 people across our range of programmes and have now created a system that can be licenced to a network of coaches. This will allow our impact to be far reaching.
The Challenges That Have Been Overcome
As a business we face challenges every day and that is what makes it exciting, testing yourself and those around you to find solutions, overcome them and move forward.
The biggest challenges for me can be deciding when to move something on or if it just needs adjusting. When programmes have not worked, being able to analyse proactively to meet the needs of the customer.
Evolving to keep up with trends, but also remaining true to your principles and values. You cannot stand still in business and that is certainly true in the fitness industry. At the very least though you must always be open to feedback and have a willingness to make changes when required.
An Evolving Industry
The industry is always evolving. It is more popular now and the route to entry to become a qualified personal trainer is far easier and faster. It can be difficult for clients to differentiate who has the knowledge and experience needed to work with them.
This has always been an industry that attracts a quick fix, with new fads, gimmicks and silly shakes coming out. This noise misleads people and gets away from the core principles required to achieve results.
That is one of the things I am most proud of with BlitzFitMe, that we are a company that cares and looks after people with a long term approach. We create sustainable solutions for people and are honest at the start of the process of working together.
My Motivation
My motiationby teaching and coaching them on forming strong habits, the benefits of exercise, good nutritional choices, stress management and emotional well-being, which results in them becoming happier, healthier, fitter and performing better.